For the connoisseur noir, Universal Consciousness is a devilishly great label with a handful of treats for the taking.

Shame on me, but I only recently stumbled upon this imprint and have had the morbid pleasure of getting acquainted with a few of their latest offerings.

As far as I'm concerned, they've proven themselves more than worthy of my watch.
First up is Moon Knight's Ligeia.

Its stunning presentation was the first thing that caught my eye.

It's got a quality cardstock j card with moniker and title letter-pressed on the cover.

It's also got a mini booklet that's more like a foldout poster containing creepy art and even lyrics to the different tracks.

The shells of the tapes are also pro imprinted with sweet lettering.

This thing isn't just show though, but also goes!

James Brown III, the current guitarist of Harassor a.k.a. Lord Foul, rips it up with some killer USBM.

It's interwoven with electro-ambient and post-rock/metal elements.

You can definitely hear some shoegaze and thrash influences.

As far as sound, Moon Knight's morbidity can be summed up as depressive.

I know that black metal isn't known for being positive, but the mood is entirely melancholic and not as much hateful.

Careful with this one; it might send you running for the razor.

Far from self-indulgent though, this is a mature work.

It's a little raw and noisy but with a sophisticated refinement, like an artist that soulfully crafts his art.

Limited to 100.

Highest possible recommendation.
Second, there's Ravendawn's self-titled tape.

It features a stunning look similar to the Moon Knight release, but is scaled back in simplicity as it lacks the lyrical guide.

The story on this one interests me greatly.

It was recorded fifteen years ago back in 1997!

Their legacy is only now being discovered as their work has recently seen the light of day.

Apparently, they were a couple of bored rural Iowa teenagers who were possessed by the true nekro black metal spirit.

I hear that it was even a male and female duo.

Ravendawn can be described ultimately as raw, disgusting, filthy, and ugly.

It is a sewage pipe of piss poor recordings that are of such bad quality that they're good.

You'll feel like you're swimming around in a surreal existence by the forms that the guitar takes.

But this is a very difficult listen. You stagger away queasy by its quantity of blasts and sore from the blistering rage.

Also limited to 100.

Highly recommended.
Third, we have Lord Time's Forgotten Future, which is his vinyl debut.

Lord Time is Harrassor's drummer, Andorkappen, and Forgotten Future is a reissue and remastered re-presentation of his first tape release.

It's got all new art too.

Now, what should have caught me off guard was his self-description: "morbid exterminator metal," but I was especially aghast by the use of his own blood on this record.

For example, there's a bloody thumbprint on one side of the record label and droplets on the other side.

It goes to show that the artist really takes his work seriously.

It makes it so that I want to touch my record with rubber gloves though.

Each pithy track is a sonic burst of blackened intensity and choked vocals.

Entrenched in dark mood and atmosphere, this one-sided LP will veil you with its night.

Limited to 200 and co-released with Prison Tatt Records.

Recommended.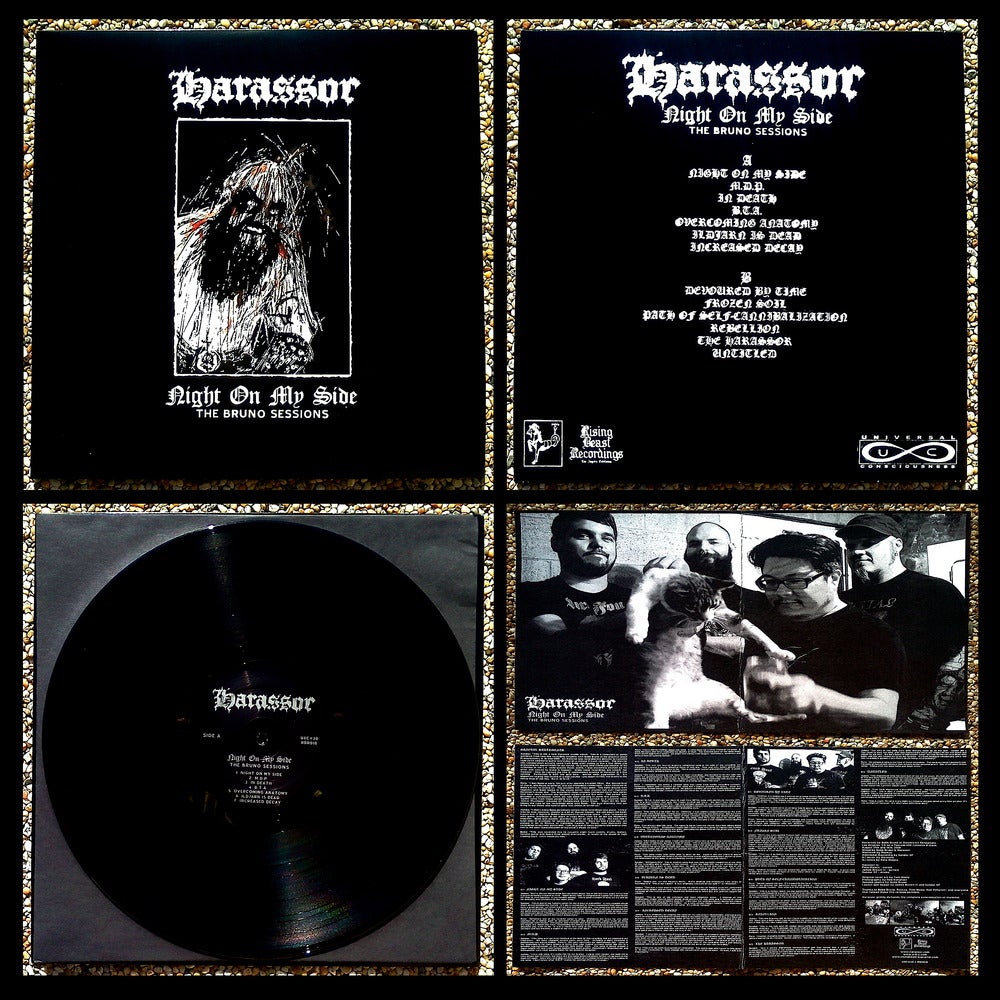 Last but certainly NOT least, is Harassor's latest LP, Night On My Side: The Bruno Sessions.

Now, if you don't know about Harassor then you are seriously missing out.

They have that debased and depraved vileness that I love in all my black metal—only to the max.

It is as gritty and dirty and nasty as it gets.

Utterly brutal and animalistic.

But they are also master craftsmen that sculpt metalwork with various alloys.

This should not be overlooked.

They are not only black metal artists, but incorporate elements of thrash and punk and who knows what else into their abrasive sonic assault.

If you like Sump or the stuff coming out on Die Rot then you'll probably dig this.

Limited to 300.

Co-released with Rising Beast Recordings.

It's got DIY screened art that I really dig.

Yup, more blood too.

This time from all the band members.

Insanity!

Highly recommended.
Well, that's the latest update.

You fail at life if you forgo any of these.

Universal Consciousness puts out very few releases, but when they do they are quality to the eye and to the ear alike.