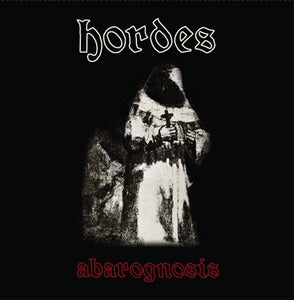 This little 7" is one helluva debut!

Regrettably, I didn't hear a whole lot about Hordes when this came out last year.

So, to try to right this wrong, I will hopefully do this tiny ten track piece of wax some justice.

Abargnosis is, as the label says, "the new breed of power violence."

I don't know a ton about that genre, but I will say that it sounds like some killer blackened hardcore.

The riffs are pretty powerful and sometimes even have a death 'n' roll feel to them.

At times they come crashing like a falling sky on an apocalyptic evening, and at other times they are rippers that just tear the place apart.

The tempos make you want to punch someone in the face.

And the vocals are a deep guttural sputter of hatred.

At times the intensity and tenor is reminiscent of Cursed's Chris Colohan.

If you're into shit like this, you'll surely want to pick this one up.

Limited to only 310 copies on black vinyl, King of the Monsters only has a handful left here.

You'll want to grab one before they're gone.

Or, if you're too late, maybe you can find a fortunate distro that still has one left for you.